MiKimFX Professional Products
for Face and Body Painting
Welcome to MiKimFX Art Studio, home of professional face and body makeup. The MiKimFX crew is ready and at your
service.

MiKimFX offers an amazing array of professional makeup for face and body painting and special effects.
Our highly
pigmented makeups are available in beautifully blending creams, AQ cake and liquids that can also be used for
airbrushing.
Choose from a rainbow of amazing colours in flat, brights, iridescent and UV fluorescent.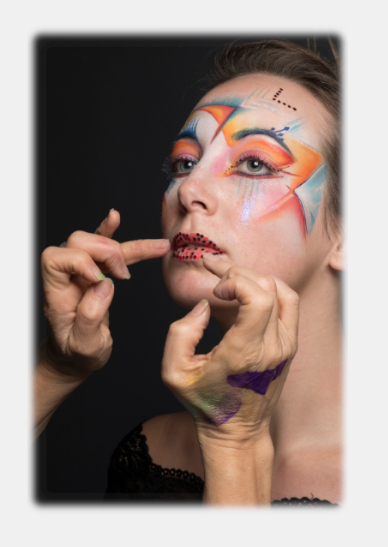 1) great coverage, a little goes a very long way ,
2) amazing blending with little effort ,
3) excellent linework ,
4) makeups for brush, sponge and airbrush,
5) very easy to remove with water ,
6) Hypo allergenic, and much, much more …
MiKimFX are a family run, well established company. We work intimately with our artists and models to perfect our
products. Our in house production means our products are always in stock. Our makeup is fragrance free, hypoallergenic
and easy to remove which is great for sensitive skins.
As well as our sublime range of makeup we also stock onestroke splitcakes, brushes, glitters, chunky festival BFG
glitters and glue, magic shine powders (real magic!) and the best sponges in the business!
We are on hand for all your enquiries, please feel free to contact us! We look forward to working with you!